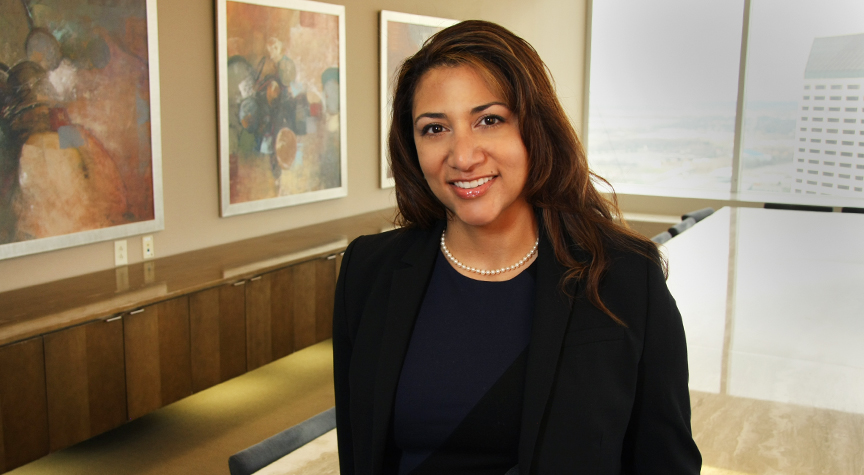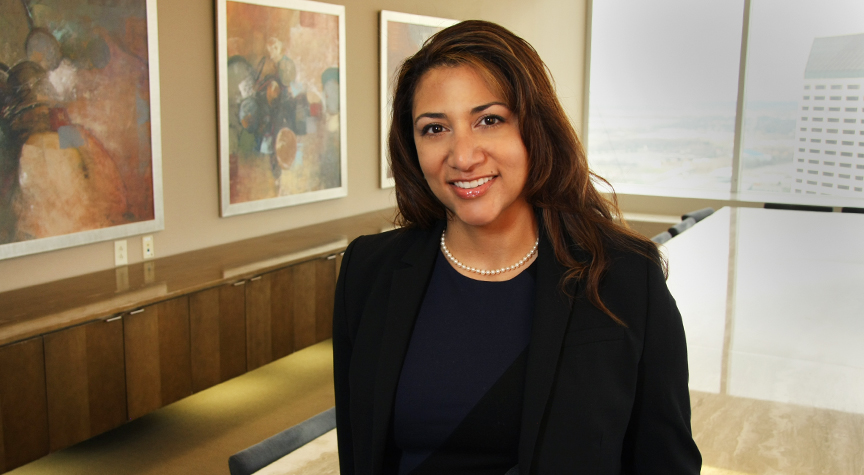 Summary
Kiamesha focuses her practice in the areas of real estate transactions (acquisitions, dispositions, development, leasing, sale leaseback transactions and real estate municipality work), real estate lending and commercial finance transactions and related business transactions.
Kiamesha helps developers, corporate real estate departments, municipalities, tenants and landlords achieve their real estate goals related to development projects, drafting and negotiating of lease documents, negotiating transfer documents and ultimately getting the deal done.
Kiamesha has closed numerous SBA, USDA and conventional commercial loans for commercial lenders and borrowers related to real estate, equipment, machinery and C&I lending.
Kiamesha's extensive base of knowledge covers an array of commercial loan types, including government guaranteed lending, asset based line of credits, term loans, real estate transactions and construction loans. Additionally, she has assisted banks with recovery of yearly financial documents, past due funds, liquidation and government guaranteed purchasing processes.
Kiamesha also assists minority, women, veteran and disabled owned businesses with attaining state and city certifications.
Awards
"Forty under 40" Honoree, Indianapolis Business Journal (2018)

Fellow, Indianapolis Foundation (2017)

Up and Coming Lawyer Honoree, Chambers USA, Real Estate

Distinguished Fellow, Indianapolis Bar Foundation (2016)

Top 40 Young Lawyer Award Honoree, American Bar Association, Young Lawyers Division (2016)

Fellow, Leadership Council on Legal Diversity (LCLD) (2015)

Up & Coming Lawyer Award Honoree, Indiana Lawyer Leadership in Law (2014)

"Outstanding Young Lawyer" Award Honoree, Indiana State Bar Association (2011)

Bar Leader Series participant, Indianapolis Bar Association (Class X)

Honoree, Indiana Super Lawyers Rising Stars (2017 - present)
Education
Indiana University - Robert H. McKinney School of Law (2007)

Mercy College (M.S. Ed.) (2004)

Manhattanville College (2002)
Admissions
State - Indiana

Federal - Northern District of Indiana

Federal - Southern District of Indiana
Notable Matters
Represented a bank in connection with a $6 million loan for the construction of an industrial warehouse distribution facility containing approximately 132,000 square feet in Greenwood, Ind.
Attended and received a Certificate of Completion from the National Association of Development Companies (NADCO) for its SBA 504 Loan Closing course.
Represented a municipality in the sale of real estate involving a historical structure that had to be relocated.
Represented a national lending institution in the financing of a $25 million student housing building. The University of Indianapolis broke ground on a four-story, 480-occupant apartment building designed to expand housing options for students. A joint venture with developer Strategic Capital Partners, the project is part of the university's plan to improve the campus experience while also elevating the quality of life in the surrounding University Heights neighborhood.
Represented a national lending institution in the financing of a $28 million multi-family project in San Antonio, Texas.
Represented a regional client in a large sale-leaseback transaction involving several parcels of industrial real estate located in varying states.
Represented a regional lender, turned developer in the development of a large retail shopping center.
Represented borrower in a $2.5 million SBA 504 transaction.
Represented borrower in a $3.5 million SBA business acquisition matter.
Represented borrower in a $4.5 million SBA 504 transaction.
Represented lender in review of SBA files for audit preparedness due to an impending audit by the Office of the Comptroller for Currency.
Represented lender in the review and revision to a franchise agreement for an entity not on the SBA's Franchise Registry for compliance.
Represented lender to developer on a multi-use project in Tennessee with TIF bonds as part of the funding and loan proceeds in excess of $40 million.
Represented municipality in acquisition of land for the development of a fire station.
Represented the buyer/borrower in connection with a $9.5 million dollar transaction to acquire two properties for the development of a mixed-use student housing project in Bloomington, Ind.
Represented various lenders in numerous SBA business acquisition matters.
Represented various lenders in SBA 7a and 504 matters involving the acquisition of owner occupied real estate.
Represented various lenders in the assignment and assumption of SBA 7a, 504 and CAPline credit facilities.
Speeches and Publications
"Real Estate Licensing: An Overview," The Law of Indiana Real Estate Brokerage, ICLEF Seminar, Nov. 13, 2019
"Handling the Closing: Critical Essentials for Smooth Transactions" and Post-Closing Procedures: Tying Up Loose Ends," Real Estate Transactions From A to Z, NBI Seminar, Aug. 1-2, 2019
Small Business Lending and Business Matters Panel, National Urban League Pre-Summit Panel, July 26, 2019
"Trying to Find Comfort. Letters of Intent and Similar Comfort Instruments - Enforceability and Related Issues," ICSC's OKIMP Retail Development & Law Symposium, Feb. 28-March 1, 2019
"Letters of Intent & Similar Comfort Instruments: Enforceability and Related Issues," ICSC Conference, October 26, 2018
"Real Estate Closings 101," Real Estate Law Boot Camp - National Business Institute, Aug. 2, 2018
"Overview of SBA & USDA Loan Transactions," July 18, 2018
"Letters of Intent," RESOURCE Commercial Real Estate – Monthly CE Training, June 27, 2018
"Representing Businesses in Transactions with SBA and Financial Institutions," ICLEF, June 13, 2018
"Letters of Intent," Indiana Commercial Real Estate Conference, May 4, 2018
"Letters of Intent and Other Comfort Instruments" ICSC 2017 OH, KY, IN, MI, PA Retail Development & Law Symposium, March 1, 2018
"Real Estate Due Diligence," National Business Institute – Real Estate Transactions From A to Z, Dec. 4, 2017
"Management Agreements and Broker Law Updates and Minimizing Risk," RESOURCE Commercial Real Estate – Monthly CE Training, June 14, 2017
"Ethics," RESOURCE Commercial Real Estate – Monthly CE Training, May 10, 2017
"Top 10 Interviewing Tips and Guidance on Developing a Personal 'Elevator Speech'," Leadership Council on Legal Diversity, March 17, 2017
"Expediting Closing Times…Facts or Myths?" Indiana Commercial Board of Realtors, March 9, 2017
"The ABCs of Leasing Tenants with SBA Loans," ICSC 2017 OH, KY, IN, MI, PA Retail Development & Law Symposium, March 3, 2017
"Real Estate Closings from Start to Finish," National Business Institute, Dec. 1, 2016
"Letters of Intent and Similar Comfort Instruments: Enforceability and Related Issues," Indianapolis Bar Association, Sept. 21, 2016
"Legal Descriptions, Title Insurance and Surveys in Real Estate Transactions," National Business Institute, April 7, 2016
Professional Affiliations
Indy Chamber

Member, Hispanic Business Council Executive Committee

Commercial Real Estate Women (CREW)

IndyCrew Member
Board Member (2020-2023)
Former Chair, CREW Network Committee (2018)
Former Co-Chair, Membership Committee (2017)

U.S. Small Business Administration 504 Loan Program

Designated Attorney (2016 - present)

Executive Women in Finance

Member

Indianapolis Bar Association

Member, Real Estate Executive Committee (2016 - present)
Former Member, Executive Committee, Business Law Committee (2009 - 2016)
Former Legal Line Co-Chair, Pro Bono Standing Committee (2014 - 2017)

Tobias Center for Leadership Excellence Fellows Program

Participant, Class of 2019

Leadership Council on Legal Diversity (LCLD)

Fellow (2015)
Community Involvement
La Plaza

Board Chair
Executive Committee Member (2016 - present)

Indianapolis Symphony Orchestra

Member, Board of Directors (2016 - present)

Indianapolis Cultural Investment Advisory Council

Member (2017 - present)

Central Indiana Community Foundation

Member, Opportunity, Equity & Inclusion Advisory Council

The Milk Bank

Former Member, Board of Directors (2014 - 2017)

Big Brothers Big Sisters of Central Indiana

Former Member, Board of Directors (2006 - 2015)

Flanner House

Former Member, Board of Directors (2008 - 2010)

Indianapolis Commercial Land Bank

Member, Advisory Board

Girl Scouts of Central Indiana

Co-Troop Leader (2016-present)

Legislative Advocate for foster children