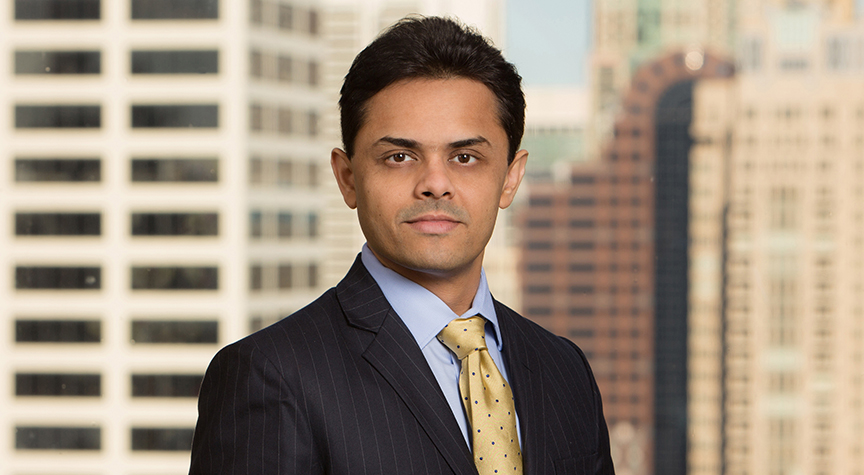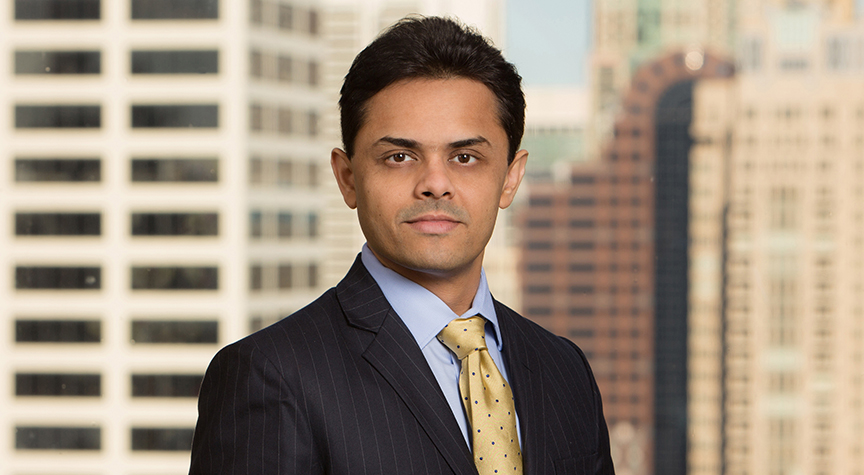 Summary
Jaimin focuses his practice on patent litigation and counseling related to pharmaceuticals and biosimilars.
Jaimin has represented world-class pharmaceutical companies in various phases of patent litigation, including generic versions of: Xeljanz (tofacitinib), Abilify (aripiprazole), Pazeo (olopatadine 0.7%), and the isosulfan blue dye. He has extensive experience working with experts to develop scientific non-infringement and/or invalidity defenses, and drafting related reports. Jaimin has also assisted in all aspects of a preliminary injunction proceeding, including deposing a technical expert and drafting the appellate briefs.
In addition to pharmaceutical and life sciences patent litigation, Jaimin counsels pharmaceutical companies on FDA-related matters. Recently, he played an instrumental role in formulating a robust and persuasive position for clients on an important industry issue relating to Orphan Drug Exclusivity. He also advocated for a client's rights in a Competitive Generic Therapies exclusivity matter, including preparing a motion for temporary restraining order. On both matters, he tackled challenging statutory interpretation issues and formulated incisive analyses to advance the client's positions.
Jaimin frequently analyzes license and settlement agreements of pharmaceutical companies to advise on the appropriate course of action, including the timing of commercial launch of drugs.
Outside of the pharma industry, Jaimin currently has primary responsibility in a software-related patent litigation in the Eastern District of Texas. He is also assisting in a matter related to the enforcement of bicycle chainring patents and inter partes reviews on medical device patents.
Prior to attending law school, Jaimin worked at a large India-based generic pharmaceuticals company. As a manager in the company's Intellectual Property Cell, he gained first-hand knowledge in litigation strategy and the business realities that inform company decisions. Before joining Taft, Jaimin was an associate in the Chicago office of Schiff Hardin LLP, where he focused primarily on Hatch-Waxman matters.
Jaimin received a B.Sc.in biochemistry from St. Xavier's College and an M.Sc. in biotechnology from the Indian Institute of Technology-Bombay. His J.D. is from The John Marshall Law School, cum laude, where he received the CALI award in Professional Responsibility and International Law. Jaimin was a judicial extern for the Hon. James F. Holderman and the Hon. Virginia M. Kendall in the U.S. District Court for the Northern District of Illinois.
Pro Bono
As part of his pro bono efforts, Jaimin obtained a favorable settlement for a middle school student in an expulsion matter after conducting an evidentiary hearing in front of the Board of Education for the school district. Jaimin also obtained a favorable settlement for a plaintiff as part of mediation in a section 1983 case.
Education
The John Marshall Law School (2016)

Indian Institute of Technology, Bombay (2004)

St. Xavier's College, Ahmedabad (2001)
Admissions
State - Illinois

Federal - Northern District of Illinois

Federal - District of Colorado
Speeches and Publications
Speaking Engagements
"Competitive Generic Therapy Exclusivity," 8th Annual Pharma IPR Conference, Mumbai, India (March 6, 2019)
Publications
"For Now, Competitive Generic Therapy Exclusivity is a Mirage" (co-author with Stephen Auten and Sinchan Shah), Law360 (Feb. 26, 2019)
Evidence in Patent Cases, ch.12 (Kenneth L. Dorsney et al. eds., 1st ed. 2018) (co-author)
"Must Whole Patent Be Nixed To Forfeit 180-Day Exclusivity?," (co-author with Steve Auten) Law360 (July 25, 2018)
"Pulling the 'Trigger' on the Hatch-Waxman Act's 180-Day Exclusivity Using Inter Partes Review," The John Marshall Review of Intellectual Property Law (May 2015)
"Effects of pH and Ionic Strength on the Assembly and Bundling of FtsZ Protofilaments: A Possible Role of Electrostatic Interactions in the Bundling of Protofilaments," (co-author) International Journal of Biological Macromolecules (2006)
Professional Affiliations
Chicago Bar Association Member

South Asian Bar Association of Chicago Member

Intellectual Property Law Association of Chicago

Member