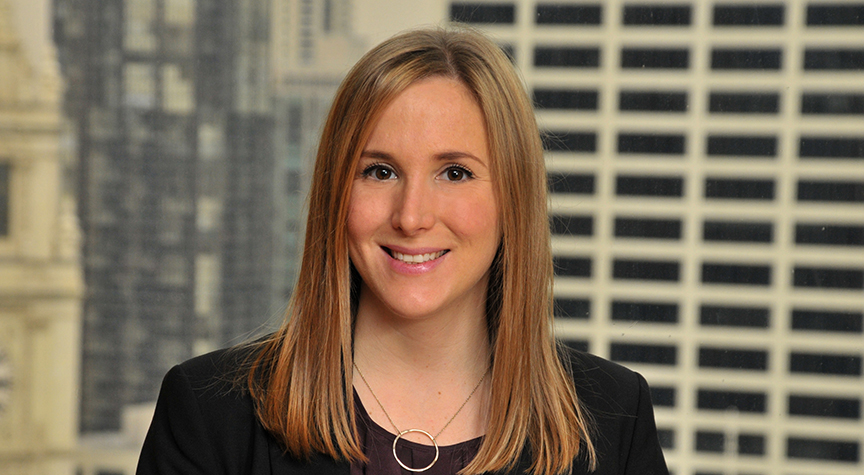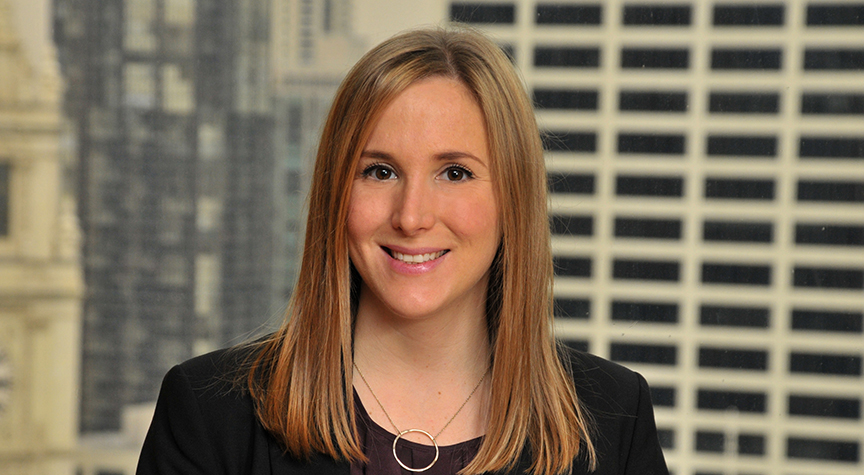 Summary
Rachel's practice focuses on employment and commercial litigation. She has experience litigating on behalf of both plaintiffs and defendants in a wide range of state and federal matters, including employment disputes, class actions, breach of contract, fraud, constitutional law, creditor's rights, real estate, health care and professional malpractice.
Rachel received her B.A. from the University of Wisconsin and her J.D. from the Chicago-Kent College of Law. She was on the Dean's List for both schools and was the associate editor for the Journal of International and Comparative Law during law school.
Rachel is honored as an Illinois Super Lawyers Rising Star 2019 for Employment and Labor Law.
Awards
Honoree, Illinois Super Lawyers Rising Stars (2019)

"Emerging Lawyers" Honoree, Leading Lawyers
Education
Illinois Institute of Technology Chicago-Kent College of Law (2011)

University of Wisconsin-Madison (B.A., Political Science and French) (2008)
Admissions
Federal - Northern District of Illinois

State - Illinois
Speeches and Publications
"Jimmy John's No-Poach Policy Leaves Bad Taste," Workforce.com (Sept. 27, 2019) (with co-author Daniel Saeedi)
"Arbitration Clauses Can Cause a Rift," Workforce.com (Sept. 19, 2019) (with co-author Daniel Saeedi)
"Individual Vs. Class Action a Cost Consideration," Workforce.com (July 25, 2019) (with co-author Daniel Saeedi)
"Testing: Contractors in the Virtual Marketplace," Workforce.com (July 19, 2019) (with co-author Daniel Saeedi)
"Bridging the Wage Gap: Illinois Likely to Become the Eleventh State to Ban Pay History Inquiries," Illinois Manufacturers' Association (June 18, 2019)
"FMLA Leave: Designate Early and Often" Workforce.com (June 2, 2019) (with co-author Daniel Saeedi)
"Stalker Costs Costco in Bulk" Workforce.com (May 30, 2019) (with co-author Daniel Saeedi)
"A Limited Definition of Concerted Activity," Workforce.com (April 1, 2019) (with co-author Daniel Saeedi)
"An Unfair Competition Claim" Workforce.com (Mar. 26, 2019) (with co-author Daniel Saeedi)
"Busting the Home-State Advantage Regarding Wrongful Workplace Acts" Workforce.com (Feb. 5, 2019) (with co-author Daniel Saeedi)
"Public Sector Employers and Age Discrimination" Workforce.com (Jan. 29, 2019) (with co-author Daniel Saeedi)
"Supervisor's Unchecked Sexual Harassment," Workforce.com (Nov. 27, 2018) (with co-author Daniel Saeedi)
"Every Minute Counts in California for Employee Compensation," Workforce.com (Nov. 26, 2018) (with co-author Daniel Saeedi)
"Biometric Data Clocks Out in Court," Workforce.com (Sept. 14, 2018) (with co-author Daniel Saeedi)
"Identifying Independent Contractors Versus Employees," Workforce.com (Sept. 10, 2018) (with co-author Daniel Saeedi)
"Emailing Employees on FMLA Leave," Workforce.com (July 30, 2018) (with co-author Daniel Saeedi)
"Supervisor Says Sorry for Boorish Behavior," Workforce.com (July 27, 2018) (with co-author Daniel Saeedi)
"How to Navigate Employee Salary History Through the Equal Pay Act," The Illinois Manufacturer (Summer 2018) (with co-author Daniel Saeedi)
"Nosy Employers and Personal Email Accounts," Workforce.com (May 31, 2018) (with co-author Daniel Saeedi)
"Are Pay History Inquires... History?," Workforce.com (May 30, 2018) (with co-author Daniel Saeedi)
"Supreme Court Okays Class Action Waivers in Mandatory Arbitration," The Illinois Manufacturer (Spring 2018) (with co-author Daniel Saeedi)
"Can Employers Rely on Federal Ban on Cannabis?," Workforce.com, Mar. 22, 2018 (with co-author Daniel Saeedi)
"The Case of the Vanishing Stock Option," Workforce.com (Mar. 20, 2018) (with co-author Daniel Saeedi)
"ADA Doesn't Guarantee More Leave Beyond FMLA," Workforce.com (Feb. 2, 2018) (with co-author Heather Jackson)
"Hot Latte with a Shot of Notice and Chance of Dispute," Workforce.com (Jan. 2, 2018) (with co-author Heather Jackson)
"Delivering Holiday Bonuses? Remember These Rules," Workforce.com (Nov. 14, 2013) (with co-Author Richard Y. Hu)
"Five Ways to Avoid Problems with Background Checks," Workforce Magazine, Volume 92, No. 9, p 53, (Sept. 2013) (with co-author Cary E. Donham)
Chapter 13: Disability; Employment Discrimination Law Fifth Edition, 2013 Supplement, (Chapter Monitor)
"Credit Card collection Suits; Life Preservers for Illinois Consumers," Illinois Bar Journal, Vol. 100, No. 7, p360, July 2012 (with co-author Edward J. Halper)
Professional Affiliations
American Bar Association

Member
Community Involvement
Anti-Defamation League

Member